1957 Jaguar XK140 OTS
Sold
| | |
| --- | --- |
| Type: | Used |
| Year: | 1957 |
| make: | Jaguar |
| model: | XK140 |
| body style: | Roadster |
| stock: | 130811 |
| | |
| --- | --- |
| Mileage: | 65886 |
| engine size: | 3.4 |
| transmission: | 5-speed |
| Exterior color: | Cream |
| Interior color: | Tan |
| VIN: | 813161 |
| | |
| --- | --- |
| Type: | Used |
| Year: | 1957 |
| make: | Jaguar |
| model: | XK140 |
| body style: | Roadster |
| stock: | 130811 |
| | |
| --- | --- |
| Mileage: | 65886 |
| engine size: | 3.4 |
| transmission: | 5-speed |
| Exterior color: | Cream |
| Interior color: | Tan |
| VIN: | 813161 |
car comments
1957 Jaguar XK140 OTS
This XK140 was purchased in 1984 by the 4th owner who sold it with us in 2008. The mileage in 1984 was 58000. It accrued another 6000 from 1984-2008 and when we initlally sold it the odmoeter read 64115. It currently shows 65886

The 3rd owner purchased it in the Mid-West and brought it out to California. According to the 4th owner when he purchased it it was in great shape, but in need of a restoration.

It had been repainted black by a previous owner. The seats and upholstery were also black. The original interior color is unknown. The owner's father had owned a cream colored '56 XK140, and it just so happens that Cream was the original color of this car. So it was decided to return it to it's original shade. The body was stripped to bare metal. The frame was stripped completely and rust-proofed. All brightwork was stripped and re-plated. The total cost was $17000, a not insignificant amount of money, considering the purchase price of $19000.

The owner was then referred to an associate of John's Jaguar who was enlisted to rebuild the motor. Over 700 hours were spent rebuilding the engine, replacing the entire wiring harness and installing an electric fan to keep the motor cool while idling in town. The total investment for this work was $20000

European Auto Upholstery reupholstered the interior at a cost of $4500. However, the current owner wanted a change so he had Val's Auto Upholstery retrim the entire interior; seats, carpets, door panels and dash in leather at a cost of $10300

John's Jaguar rebuilt the gearbox in 2001 and installed new brakes all around at a cost of $6000

In 1998 Bayside Auto Body refreshed the paint job to bring it what they describe as a 'show' finish. Cost was $6000

In 2003 the owner had Cars Dawydiak replace the 4-speed gearbox with a 5-speed overdrive unit to reduce rpm's on the freeway. The original 4-speed is available and included in the sale.

In 2004 British Car Company in Corte Madera rebuilt the entire front suspension along with rebuilding the carburetors, repairing the radiator, replacing the fuel pumps and lines, plus miscellaneous small work at a cost of $9100

Since purchasing the car in 2008, the current owner has receipts for an additonal $10000 worth of maintenance with Cars Dawydiak

In 1991 it beat out 23 other XK120's 140's and 150's to place 1st in the 'Driven' class at the Palo Alto Concours

The owners always stored it indoors and drove it an average of 500 miles annually.


Similar Vehicles
2003 Jaguar 4.2 S-Type R
33900
1974 Jaguar E-Type Series 3
47750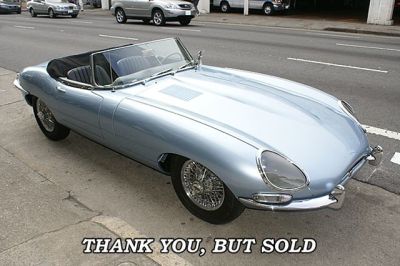 1967 Jaguar E-Type Series I 4.2 Litre
0