1967 Lotus Elan SE S3 DHC
Sold
| | |
| --- | --- |
| Type: | Used |
| Year: | 1967 |
| make: | Lotus |
| model: | Elan SE |
| body style: | Convertible |
| stock: | 110711 |
| | |
| --- | --- |
| Mileage: | 71739 |
| engine size: | 1600 |
| transmission: | 4-Speed |
| Exterior color: | Red |
| Interior color: | Black |
| VIN: | 456680 |
| | |
| --- | --- |
| Type: | Used |
| Year: | 1967 |
| make: | Lotus |
| model: | Elan SE |
| body style: | Convertible |
| stock: | 110711 |
| | |
| --- | --- |
| Mileage: | 71739 |
| engine size: | 1600 |
| transmission: | 4-Speed |
| Exterior color: | Red |
| Interior color: | Black |
| VIN: | 456680 |
car comments
1967 Lotus Elan SE S3 DHC
Fully restored and modified in 2008 by noted Lotus Specialist Rich Kamp. Starting with a bare shell this car was built up using a brand new frame that has been fully reinforced and gusseted.

The transmission was rebuilt with new synchros, bearings and clutch. The rear end was also completely rebuilt with new gears, axles, bearings, etc. The engine has been over bored .030" and fitted with forged 10.5:1 pistons, the stock crank and rods were resized, balanced and magnafluxed, the stage 3 cylinder head features C-Production spec 1.625" inlet and 1.4" exhaust valves along with gas flowed intake and exhaust ports to further increase breathing. The camshaft is a custom grind Elgin with .418" lift.

The suspension utilizes Gaz shocks with adjustable spring perches, springs are 30% stiffer than stock. The wiring harness, brakes, brake lines, wheel bearings, switches and most every nut bolt and fastener have been replaced. Other mods include a high torque starter, high output alternator w/ custom bracket, 3 row aluminum radiator, electric fan. The fenders were subtly massaged in order to fit the 185/60/13 tires and Panasport knockoffs. The dash is a custom Rosewood supplied by Prestige Auto Wood. Soft and hard tops are included as well as side curtains and a tonneau cover.

Similar Vehicles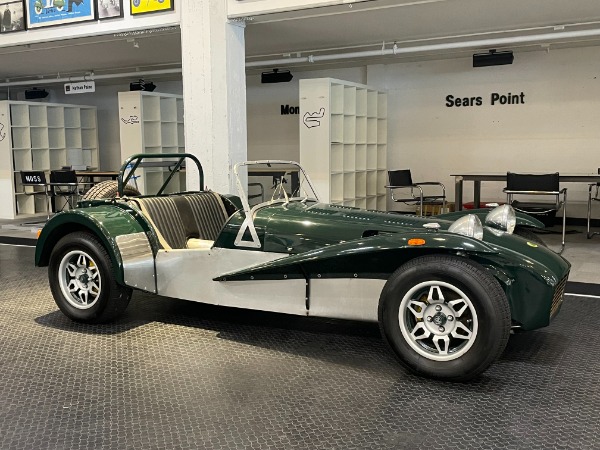 1966 Lotus Caterham
30000