For Sale: 1970 Jaguar E-type Series 2
Price: $99,900
| | |
| --- | --- |
| Type: | Used |
| Year: | 1970 |
| make: | Jaguar |
| model: | E-type |
| stock: | 190822 |
| | |
| --- | --- |
| Mileage: | 81069 |
| transmission: | Manual |
| Exterior color: | Silver |
| Interior color: | Beige/Tan |
| VIN: | 1R11325 |
| | |
| --- | --- |
| Type: | Used |
| Year: | 1970 |
| make: | Jaguar |
| model: | E-type |
| stock: | 190822 |
| | |
| --- | --- |
| Mileage: | 81069 |
| transmission: | Manual |
| Exterior color: | Silver |
| Interior color: | Beige/Tan |
| VIN: | 1R11325 |
car comments
1970 Jaguar E-type Series 2
Introducing a Beautifully Restored 1970 Jaguar E-Type 4.2 Series 2 Silver with Tan Leather interior.
This $100000 plus restoration was done in 2015 by a Jaguar Specialty Store located in San Luis Obispo.
The owner decided to retain the Series one headlights and went with a Three SU carburetted set up.
All Chromes have been redone and the craftmanship of this restoration is one that could win car shows.
If your dream has been to owned a classic E-type in perfect condition, you owe it to yourself to come see this beauty.
Overall description:
Series 2
1970 Jaguar E-Type Roadster 4.2.jpg
Overview
Also called Jaguar XK-E
Production 196871
2-door roadster
Powertrain
Engine 4.2 L XK I6
Dimensions
Curb weight 3,018 lb (1,369 kg) (FHC)
2,750 lb (1,247 kg) (OTS)
3,090 lb (1,402 kg) (2+2)
Jaguar E-Type
The Series 2 introduced a number of design changes, largely due to U.S. design legislation. The most distinctive exterior feature is the absence of the glass headlight covers, which affected several other imported cars, like the Citron DS, as well. Unlike other cars, this step was applied worldwide for the E-Type, not just to Americans living under the authority of the National Highway Traffic and Safety Administration.

Other hallmarks of Series 2 cars are a wrap-around rear bumper, re-positioned and larger front indicators and tail lights below the bumpers, an enlarged "mouth" which aided cooling, twin electric fans, plastic rocker switches in place of the Series I toggle switches, and a downgrading in performance resulting from a switch from the three SU carburetors used in Series I models to a mere two "smogged" Stromberg carbs, reducing horsepower from 265 to 246 and reducing torque from 283 to 263.

A combination steering lock and ignition key was fitted to the steering column, which replaced the dashboard mounted ignition switch and charismatic push button starter. A new steering column was fitted with a collapsible section in the event of an accident.
New seats were fitted which allowed the fitment of head restraints, as required by U.S. law beginning in 1969. The interior and dashboard were also redesigned; rocker switches that met US health and safety Series 2 (196871)
regulations were substituted for toggle switches. The dashboard switches also lost their symmetrical layout.

Air conditioning and power steering were available as factory options.


Similar Vehicles
2003 Jaguar 4.2 S-Type R
33900
1974 Jaguar E-Type Series 3
47750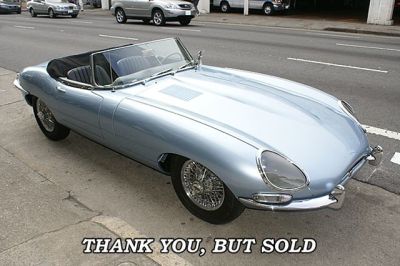 1967 Jaguar E-Type Series I 4.2 Litre
0