1973 Jaguar XKE
Sold
| | |
| --- | --- |
| Type: | Used |
| Year: | 1973 |
| make: | Jaguar |
| model: | XKE |
| body style: | Coupe |
| stock: | 140811 |
| | |
| --- | --- |
| Mileage: | 38489 |
| engine size: | 5.3 |
| transmission: | Automatic |
| Exterior color: | White |
| Interior color: | Black |
| VIN: | UD1S75002 |
| | |
| --- | --- |
| Type: | Used |
| Year: | 1973 |
| make: | Jaguar |
| model: | XKE |
| body style: | Coupe |
| stock: | 140811 |
| | |
| --- | --- |
| Mileage: | 38489 |
| engine size: | 5.3 |
| transmission: | Automatic |
| Exterior color: | White |
| Interior color: | Black |
| VIN: | UD1S75002 |
car comments
1973 Jaguar XKE

This Jaguar XKE was ordered from the USA in 1972, and purchased in Coventry in 1973. At time of delivery in England, it was driven around Great Britain and to Paris, Frankfurt, and Russia. The XKE then returned to Frankfurt, and shipped from France back to the USA.

It has been a California car, and driven periodically for thirty-five years. The longest journey taken from the Bay Area was the occasional Tahoe trip. The Jaguar lived garaged in Mill Valley, CA for forty years with the original owner! In 1985, he became ill, and stopped driving the XKE. The Jaguar remained in the family and maintained, but only driven occasionally around Mill Valley, until purchased and the restoration commenced by the current owner three to four years. During the last four years, the Jaguar has been driven less than 400 miles.

The restoration Includes:
Cleaning of fuel lines and tank.
Replacement of numerous electrical parts and wiring for interior dash and switches and instrumentation.
New Battery.
Replacing all Leads and spark plugs.
Removal and full restoration of all four Carburetors.
Sandblasting and repainting air filters in original Jag Dapple Grey.
Restoration of interior front seats, and headliner.
Replacing both rear vision mirrors.
Replacing both from seat belts and inertial units.
Full paint job changing from original Taupe to Jaguar Old English White.
Replacement of all the exterior rubber window seals around doors and front window removed to replace rubber.
Re Chromed various bumper bars and replaced Rubber Cushions on front Bumper.
Brakes Reconditioned.
Shock Absorbers replaced.
A/C fully reconditioned and upgraded to new USA compliance standards.
Recommended work down the road, but not required now: recondition power steering pump, replace wire wheels, and repairing small crack in the dash.

This is a fantastic example to acquire a legendary Jaguar, that is ready to drive and enjoy!
Similar Vehicles
2003 Jaguar 4.2 S-Type R
33900
1974 Jaguar E-Type Series 3
47750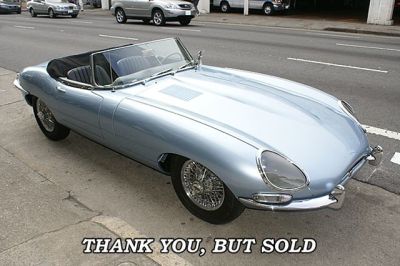 1967 Jaguar E-Type Series I 4.2 Litre
0