2005 Spyker C8 Spyder
Sold
| | |
| --- | --- |
| Type: | Used |
| Year: | 2005 |
| make: | Spyker |
| model: | C8 |
| stock: | 140104 |
| | |
| --- | --- |
| Mileage: | 4262 |
| engine size: | 4.2L V8 |
| transmission: | M |
| Exterior color: | Black |
| Interior color: | Beige/Tan |
| VIN: | XL9GA11A05Z363031 |

| | |
| --- | --- |
| Type: | Used |
| Year: | 2005 |
| make: | Spyker |
| model: | C8 |
| stock: | 140104 |
| | |
| --- | --- |
| Mileage: | 4262 |
| engine size: | 4.2L V8 |
| transmission: | M |
| Exterior color: | Black |
| Interior color: | Beige/Tan |
| VIN: | XL9GA11A05Z363031 |

car comments
2005 Spyker C8 Spyder
The C8 Spyder is powered by a mid-mounted 400hp, 4.2 liter, all aluminum V8 driving the rear wheels. It can achieve a maximum speed of 190 mph. Redline is 7500rpm. Curb weight is 2750 lbs. The gearbox is a 6-speed manual with exposed shift linkage. Koni provides the inboard mounted, pushrod actuated coilover suspension, which is almost infinitely adjustable for compression, rebound, caster, camber and toe. you can make the car behave any way you want. The brakes, clutch and gas are actuated by aluminum floor mounted pedals mounted in a race style pedal box, including a dead pedal.

The body panels are entirely crafted form aluminum and feature neat details like the exposed, polished mirrors w/ hidden door latches, air intakes and grilles. Brakes are supplied by British racing supplier, AP Racing. The calipers are 6-piston units and the rotors are two piece, with slotted steel rotors attached to lightweight aluminum hats

Bespoke is the one word to accurately describe the car. No two Spykers are alike. Our car features a diamond stitched leather interior, dash and doors. A custom sound system has been integrated into the vehicle. This C8 Spyder was also used to record sound effects for the video game franchise Forza Motorsport.

Similar Vehicles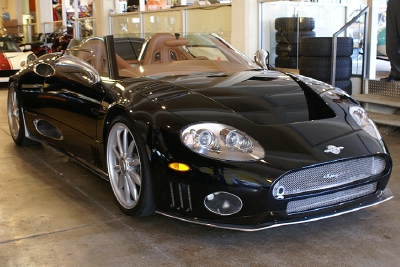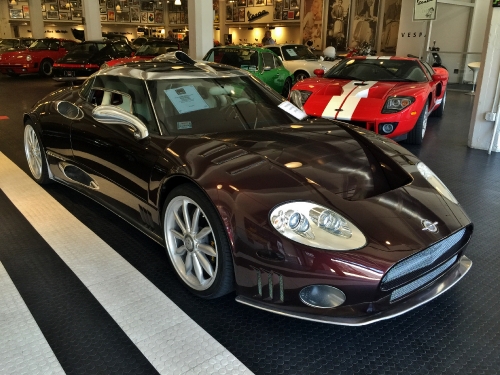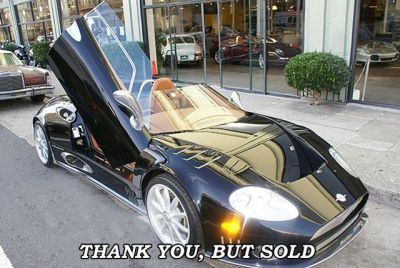 2006 Spyker C8 Spyder
179000